Chew toys for dogs
Does your dog chew anything?
DOES HE CHEW YOUR FAVORITE SHOES, SOFA AND EVERYTHING THAT IT CAN PUT ON HIS TEETH?
Ours too! That's why we came up with something. An excellent toy that your pet will love to chew! Not only can it be a fun toy, it will also clean your teeth. HOW FANTASTIC! It helps remove plaque and tartar by reducing bacteria build-up. Therefore, they keep their teeth clean and breathe FRESH!
ADVANTAGES:
PERFECT CHOICE FOR YOUR DOG'S HEALTH: Biting and chewing everything always makes us worry about your beloved pets. Therefore, we have brought you  Dog Chew Toy - a new innovation for cleaning your dogs' teeth and keep your dog's breath stay good.
WIDE RANGE USED FOR MOST OF DOGS:  Dog Chew Toy for puppies and large breed is made of durable rubber which is designed with two layers of granular surfaces. Our new toy includes one granular ball connected to a suction cup that can be easily fixed on a smooth surface.
SOLUTION FOR DOGS' BAD BEHAVIORS: With  Dog Chew Toy, now you will never have to worry about your dogs biting and chewing everything in the house when you are not at home, which will gradually make your dog more docile. This special chew toy will also be your pet's best friend as well as help him relieve stress and anxiety.
DURABLE CHEW TOYS:Traditional dog chew toys ones will easily be bitten into pieces just after few times or by a large dog. This is what has made Dog Chew Toy more outstanding because it is made of totally high-quality rubber with great durability and toughness.
YOU AND YOUR PETS' SATISFACTION IS OUR GOAL: What makes us and our Dog Chew Toy one of the customer's top choice is not only our product quality but our service as well.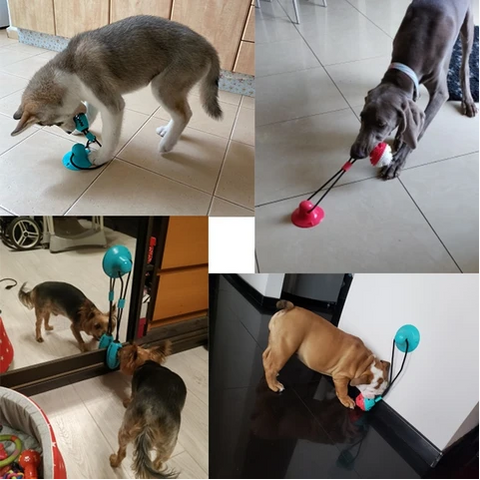 CHARACTERISTICS:
BOUNCY:

 

When throwing the ball hits the ground and bounces back very high.

 

Great for playing and having fun in the yard, at home, in the park or on the bank.

 

It also inspires pet hunting instincts to chase this ball insane, thus enhancing pet exercise agility.
MULTIFUNCTIONAL:

 

It's not just a simple toy!

 

It also cleans your teeth.

 

It helps remove plaque and tartar by reducing the growth of bacteria.
SAFE:

 

Made of food-grade TPR materials, environmentally friendly, non-toxic, safe and harmless for your lovely pets.
SOFT:

 

Chewable toys are designed with a soft texture. Safe for your dog's gums.
YOUR FAVORITE: It will be your favorite toy. 

So don't chew on the sofa, shoes or furniture anymore!
 INCLUDES: 1 X Chew toys for dogs