Easter bunny dwarf decoration
Is that the doll you want?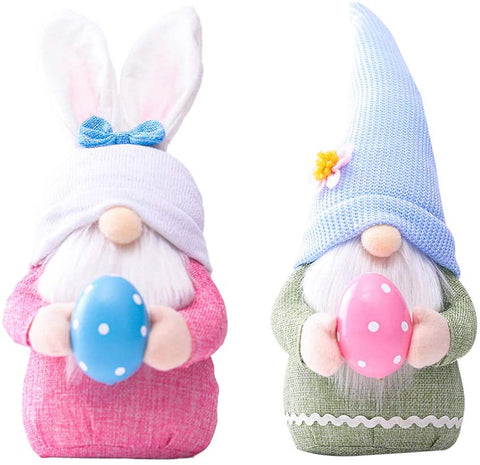 Characteristics:
❤ The rabbit is one of the symbols of Easter. It is a gift of luck for family and friends. The beautiful spring rabbit is a good place for Easter, home decoration, can dress up the Spring Festival, Gala, Wedding, Birthday and other occasions

❤ Made of high quality materials and durable. Every Easter dwarf has a white beard and pink ears.

❤ Every Easter dwarf has a white beard, pink hair and ears. It has a wire in the ear so you can shape it to your liking.

❤ Stable base, light weight, can be used for desk, sofa, bookcase, shelf, mantelpiece, bottle cap and other places, is the perfect addition for spring decoration.

❤ Bright colors and perfect size - these Easter bunny dwarfs look perfect next to your favorite Easter decorations.
Specification:

Material: flannel and material.

Size: faceless men: approx. 13 x 13 x 35 cm, rabbits: approx. 12 x 14 x 34 cm.

Quantity: 1 piece.

Note:

There is no retail packaging. Due to manual measurement, there may be deviations of 0-1 cm. Please only buy if this is not a problem. The actual color of the various displays may vary. Many Thanks!
The package includes:

1 x Easter bunny dwarf decoration