Fleece sleeping bag for children
Happy children, happy naps
CHARACTERISTICS
Warm, cozy and calming

Take it anywhere

Perfect for overnight stays

Safe and easy to use zipper

Revives your child's imagination

Supports the growing independence of your child

Makes it easier for parents to nap and go to bed

7 adorable animal caricatures to choose from

Converts from pillow to sleeping bag in no time

A perfect pillow for playtime, storytime, and even study time

Machine washable

Plush and comfortable
From a cute pillow to a sleep-time friend
Most children resist napping. The world is full of wonders that they don't want to miss a moment. There are games to play, friends to have fun with, and discovery to be made. It's not easy for parents who want to make sure their growing child is getting the sleep they need.
So why not make bedtime a fun time your child will enjoy? It looks like a cute play pillow, but it's so much more! This adorable squishy pillow opens up into a soft sleeping bag for you to snuggle into when you drift off into dreamland. Your child will love sleeping alone, with siblings, or with friends.
Every child loves this sleeping bag. Imagine how surprised your child will be when you pull their feet and the cute animal face transforms into a full-length body and cozy sleeping bag! Choose between several animal caricatures.
The play pillow with personality
When it comes to your children, safety is your number one consideration. The pillow is a plush pillow with a soft sleeping bag inside so there are no loose parts or complicated controls. It's 100% safe for children 2-4 years old and even supports their growing autonomy. Just pull open the pillow, tuck it in and close it like you would with a sleeping bag.
The pillow is also a fun play companion for your child. With its dense, premium quality padding, the pillow is perfect for your child to rest while reading stories, watching movies or playing with friends. With the cute sewn-in animal personality, this can also become part of your child's imaginative play. The pillow is also an effective homework helper - if there's a fun character pillow to sit on or sit next to, these lessons are so much more fun!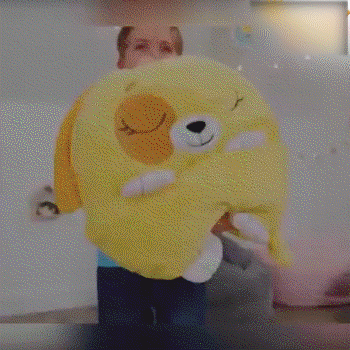 Light pull and zip



The pillow transforms from the perfect play pillow into a soft sleeping bag in no time at all. Just pull your feet and - surprise! - Your child has a safe and comfortable place to fall into a deep sleep.
The pillow also gives your child a sense of security from fears of dark or scary dreams. Since they are a cute, gentle animal character, your child will feel like they have a friend they can take anywhere. It's perfect for a first sleep with a friend. It feels safe and easy to carry. Take it camping, in the hut or even on family holidays!
For children of all ages
They'll laugh when you see your child's newfound love at bedtime! It is designed for children aged 2 to 8 years. Standard size: 140 * 45 cm
SPECIFICATIONS:
Expanded size: 

140 * 45 * 10

Fold size: 

47 * 47 * 10

Weight: 

795 g
PACKAGE INCLUDED:
1 * Fleece sleeping bag for children