Interactive Windmill Cat Toy
🐱WANT TO KEEP YOUR CAT EXCITED?🔥
Playing for our cat is essential not only for health reasons (to keep fit and avoid being overweight) but also to avoid behavioral problems, since a cat that finds the stimuli it needs at home is more likely to suffer from stress episodes.

The ideal is to spend some time each day playing with our cats, but if they need additional stimulation to stay active the rest of the day, interactive toys are an ideal option.
Chosen as the best cat toy in 2020!

This revolutionary toy mimics the movement of the windmill to attract the cat's attention and helps keep it agile and healthy by effectively increasing concentration.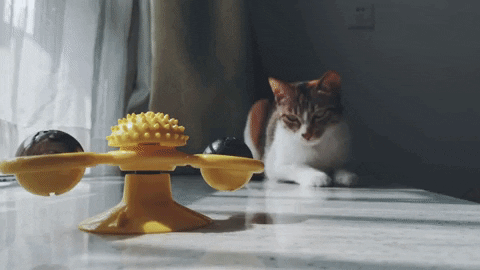 Made to keep your pet busy and active and offers hours of fun and entertainment. As soon as they see it, they won't stop playing with it!
The spinner cat toy is designed with 2 transparent round positioning grooves on the round windmill blades which can place catnip, bells, snacks and treats to attract the cat's attention.
RELIEVES STRESS AND ANXIETY
The movement and interaction caused by the toy are designed to keep the cat entertained and thinking, making the anxiety disappear and keeping him relaxed.
SCRATCH SOFT HAIR BRUSH
This kitten toy is designed with a brush to scrub the hair and face in the center. This is a self-care tool and will comfort your cat while playing. A great helper for cat grooming, designed according to the cat's lifestyle.
MADE WITH PREMIUM MATERIALS
This indoor cat cat toy is made of environmentally friendly soft silicone, non-toxic and safe. Perfect for biting, chewing and playing.
WITH A STRONG SUCKER
You can attach the suction cup to any smooth surface such as tiles, glass, windows, tubs, coated wood or plastic to watch your cat play with it.
PACKAGE INCLUDED
1 * Interactive Windmill Cat Toy