LED Glasses Magnifier 8x 15x 23x
★★★A good solution to inspect items under a magnifier. Widely used in mechanical processing, electronic repair, jewelry appraisal, timepiece repair, and miniature engraving, etc.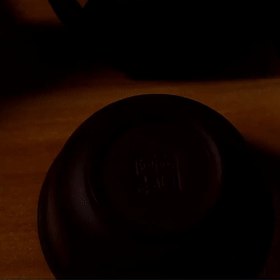 Main Features
3 Interchangeable Lens
3 different magnifications can be interchanged quickly. If this magnifier is used for a long time, may use two lens barrels alternately to eliminate visual fatigue and improve work efficiency.
Detachable Bracket and Headband
Comfortable eyeglass frame or switch to a headband to ensure tight wearing and reduce fatigue for long time use.
Widely Use
Various lenses for mechanical processing, beauty & makeup, jewelry appraisal, clock repair, and miniature engraving, etc.
2 Adjustable LED Lights
can help work in low-light conditions (6 * button batteries Included). Easily rotate the LED switch cover about 30 degrees clockwise from the dot to the lamplight mark to turn on the light.
3 Different Magnifications: 8x, 15x, 23x with the lens focal length of 2.44 inch,1.30 inch, 0.83 inch
Adjustable Nose Pads & Bracket: It allows people to adjust the size that could fit in the head nicely and comfortable.
Built In LED Light: The light brings a lot of convenience to people who wants to use it at night or in the dark place.
Various Functions: It can be used for reading, sewing, painting and etc.
Portable & Lightweight: You can bring to to everywhere and the size is just perfect to fit in your bag.
Using Methods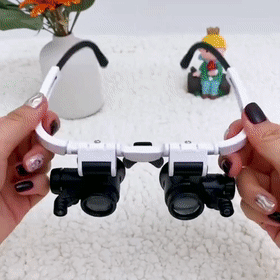 Specifications:
Material: ABS Plastic, Acrylic Optical Lens, Metal Fittings
Magnification: 8x, 15x, 20x
Lens Focal Length: 62mm, 33mm, 21mm
Battery model: 6x LR1130 (Not Included)
Product Dimension: 175* 155*55 mm(Unfolded) ; 85*155*55mm(Folded)
Package Includes:
1x LED Glasses Magnifier 8x 15x 23x