Mesh Loafers Sneakers
>> FREE SHIPPING
🎉 Comfortable Footwear✨

FEATURES
Woven upper surface, light tidal vitality

 :

the upper part is made of lines of air-permeable material, which is visible to the eyes, and the upper leg has the light tidal vitality
Breathable and comfortable inner skin

 :

selected material for the skin, such as inner gear, comfortable, non-slip, with comfortable return, care for the skin of the feet
MD rubber outsole

 :

non-slip coolness, the design of the grooves on the edge of the shoe, with three-dimensional shading, highlights the cool non-slip character.
Reduces plantar pain and promotes better posture

 :

A good pair of shoes is important to improve your overall posture. Our feet support all the weight of our body, it is important to have comfortable shoes and shock absorbers. The sole is designed to absorb shocks and relieve every cushioning of the foot on the ground, thus relieving all plantar pain. Thanks to its thick and elastic sole, your feet are well anchored to the ground and thus avoid the imbalance of the hips. Your knees return to their natural axis and the pressure on your muscles is reduced.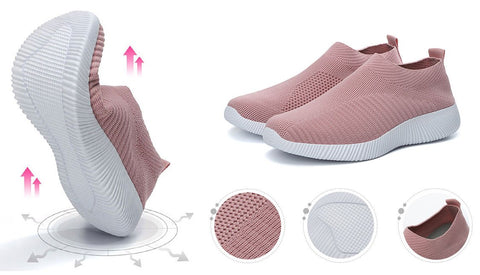 A unique and modern design

 :

Designed with a quality technological fiber, our shoes have no seams, which gives your feet more freedom and flexibility. The fabric, flexible and elastic, will adapt perfectly to each morphology. The seams present in other shoes often cause blisters or unpleasant sensations on the feet. The absence of seams reduces friction. It will give maximum comfort. Stay comfortable in your sneakers even in summer.
SPECS
Popular elements

 : sewing, color matching.

Top

 : Knitted Top

Sole material

 : MD rubber sole

Heel height

 : 4 cm.

Size chart

 :
PACKAGE INCLUDES: