Bath Bubble Ball (3 single color roses)
                                Bath Bubble Ball 
Features:
A unique handmade bomb with many

ingredients

 of rose.Each bath bomb is individually packaged to maintain freshness and quality for the best experience.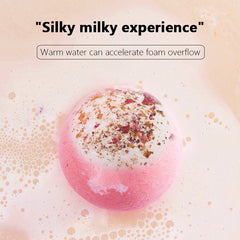 The bath bombs set with Organic and natural

, rich in various natural organic ingredients, such as sea salt, natural essential oils and shea butter. The essential oils and sea salt contained in it are long-lasting, gentle, nourishing, which can soften the skin, improve the complexion, make the skin smooth soft and tender, and has a strong moisturizing effect.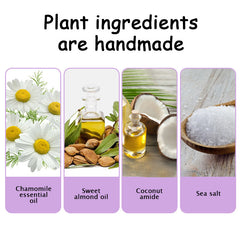 The latest ingredient ratio ensures a good foaming and floating effect. When placed in water, it will produce many bubbles, bringing you a fragrant and interesting bath. The most important thing is that these bath salt balls will not Stain your skin or bathtub.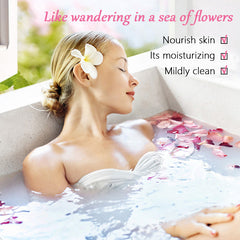 It is no longer necessary to

spend a lot of time and money on luxurious bathing. Pour hot water into the bathtub at home, put on the essential oil bath bomb, and lie down to enjoy the intoxicating aroma of the bath. It will help you eliminate tension and anxiety.
Unique Gifts. These bath bombs are suitable for women, men, children, male and female teenagers. The exquisite gift box packaging is a surprise gift for family and friends on Christmas birthday, Valentine's Day, Mother's Day, parties, weddings, and anniversaries.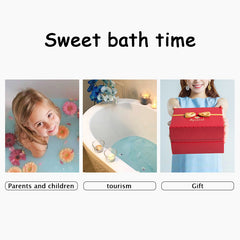 GREAT FOR DRY SKIN: Unlike a regular bubble bath, our bath bombs are loaded with bath salts, Shea butter, Cocoa butter, and other carefully hand-picked ingredients to soothe and treat your dry skin. It brings huge relief to itchy skin, eczema, and other skin ailments. And the aromas also lift the mood and relieve fatigue instantly.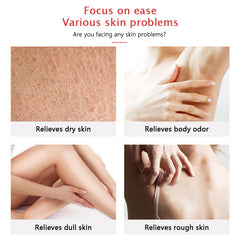 LEAVES NO RESIDUE: Each bath bomb comes in different colors, gives an impressive visual effect, and dissolves easily. But worry not! Our natural bath bombs don't leave any residue or stain your bathtub with colors and glitter. You can have a relaxing spa-like experience without having to worry about the clean up after.
Details:   
   Product name:Bath Bubble Ball
   Weight:100g
   Size:6cm
Package Include:
   1*Bath Bubble Ball (3 single color roses)