Silicone shower head holder
SILICONE IS FLEXIBLE AND SUITABLE FOR MOST SHOWER HEADS.
* FIX IT AT ANY HEIGHT to place the shower head just where you need it.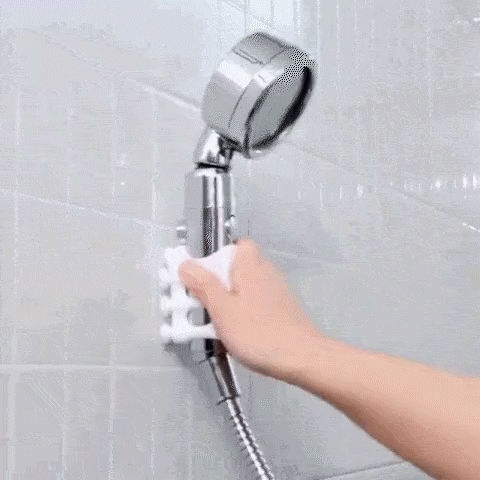 HAVE YOU NOT FOUND A SOLUTION FOR THIS KIND OF PROBLEM YET?
Do not know where to put the shower head and must hold it with one hand and wash things with the other hand? And in the end easily spray water on clothes and pants ?
INSTALL IT FOR EASY CLEANING!
FEATURES:
PRACTICAL, EASY TO USE  It has a comfortable handle that will allow you to wash hair, bathe babies and children and facilitate use for the elderly. It is perfect for camping and even for washing your car. She will be surprised to find herself using it constantly.
DURABLE CONSTRUCTION  Made of extra strong silicone that is easy to clean. Far superior in quality to fragile shop alternatives. This will last for years of daily use. Universal fit is perfect with most shower heads. This holder cannot be used with curved shower heads.
EASY TO ASSEMBLE  Just use the suction cups to make it stick to virtually any flat surface. No screws, drills, plumbing or gluing are required. It only takes a few seconds to mount it and start having fun. Perfect for keeping your bathroom intact and for rental homes where no changes are allowed.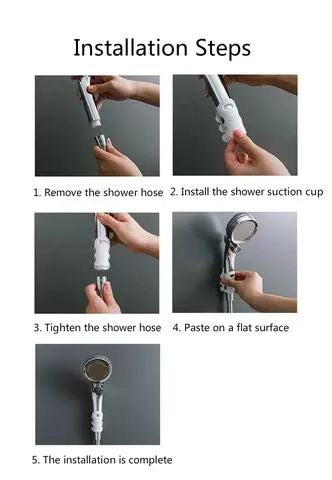 PACKAGING:
1 x Supporto in silicone