Soap Dispensing Dish Brush Pot Clean Brush
🤲PROTECT YOUR HANDS FROM DETERDENT👏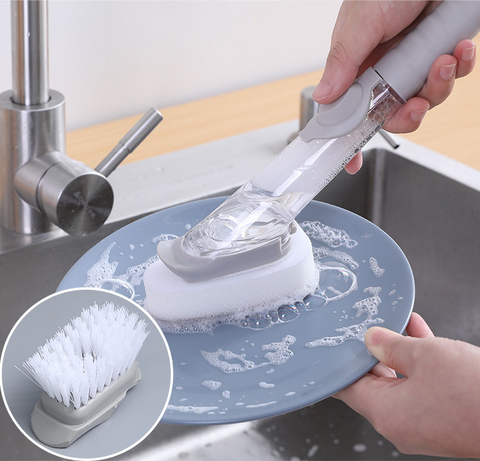 FEATURES
3-in-1 super practical – a small pressure on the soft, non-slip button is enough and a little washing up liquid from the brush splashes onto the dish part to be washed. This washing up brush protects your hands from detergent, dirt, oil.
Nylon bristles and squarepants - the head has sturdy nylon bristles for removing dirt residue in no time at all. You will receive two sponges as replacement parts for nylon bristles. The squarepants easily reach every corner with its unique teardrop shape, making it suitable for non-stick cookware. The hanging hole is for easy and odourless storage.
Ergonomic design - comfortable and non-slip in wet environments. The push button is made of high quality and soft silicone with good workmanship, has a very good seal. This means that the detergent on the button does not leak. Robust handle ensures no crack after long use.
Wide application - the brush heads can clean bowls, pots, sinks, cookers and kitchen utensils. The refill liquid cleaning brush is also ideal for cleaning windows, toilets and other household items.
SPECIFICATIONS
Material: PP
Color: gray
Size: 24.0 * 8.0 * 6.0cm / 9.4 * 3.1 * 2.4in (L * W * H)
Net weight: 141 g
PACKAGE INCLUDED
1 * brush handle
2 * brushes
2 * sponge pads