WOODWORKING TOOLS
WOODWORKING TOOLS
✔ Create wood texture on any surface:
 

Wood, house wall, brick, plastic, steel ...


✔ Sharp pattern, sharp texture
✔ Gently hand in hand - Delicate ease
✔ Soft rubber material,

 

Safe

 

for any surface - And never

 

reusable

NOTE:
- Clean the product after using with a cloth soaked in gasoline. Then rinse with water, do not immerse the product directly in gasoline, easily damage the product.

- If you have not used the product proficient, you should try working a few times on sample objects to get used to it. So when you get used to the hand, the texture will be beautiful and look more natural like a real wood grain.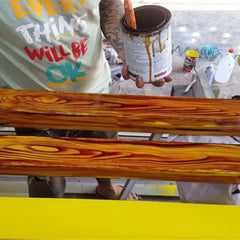 DETAILS:
Product Name:WOODWORKING TOOLS
Size:15*6cm & 7.2*6.2cm
INCLUDE:

 1 X set of WOODWORKING TOOLS